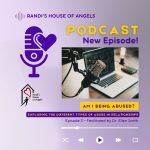 Episode 3: Am I being abused? Exploring the different types of abuse in relationships
Release Date: November 13, 2023

Content:
What is Intimate Partner Violence (IPV), what is abuse, Physical, sexual, psychological/emotional, financial, cultural, social, spiritual, verbal, cycle of violence/power and control wheel, IPV resources.
Facilitator: Dr. Ellen Smith
Guests: Stephanie Spurgeon, Direct Services Supervisor at Domestic Violence Services of Cumberland & Perry
Resources: 
1.  DVSCPC offers services including an emergency shelter, a 24-hour hotline that you can call or text at 1-800-852-2102, individual and group counseling, protection from abuse (PFA) orders, medical and legal accompaniment, and children's programs, among other resources.  Their website can be found at http://dvscp.org.
---
Music in this episode is:  "Adding the Sun" by Kevin MacLeod (incompetech.com)
Licensed under Creative Commons: By Attribution 3.0 License
---
Feedback:
Please consider taking a brief survey with the link below to share your thoughts about our podcast series.  Thank you!
https://www.surveymonkey.com/r/RHOAPodcast
---
Subscribe or listen on other platforms: