Our annual events are an integral part of our fundraising efforts.  This year, we commemorated the 15th Annual Randi's Race on Saturday, May 11. On September 6, 2019 we're excited to host the 4th Annual 'A Round Fore Randi' golf outing. These FUNdraising events create exciting opportunities for participants to become champions of the causes we create and support.
February 4, 2020 at 6:00 pm
Susquehanna Psychological Services (SPS), 20 Clearfield Street, Suite 2
Elizabethville, PA
Randi's Kidz Club is a ten-week therapeutic group for children, ages 8 to 13 years, who have experienced or
have been exposed to domestic violence. This program has been designed to help children cope with feelings and emotions through art therapy, games and relaxation techniques.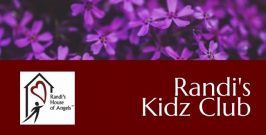 February 13, 2020
Mechanicsburg, PA
LATEST NEWS FROM OUR BLOG
THOUGHTS FROM OUR DONORS, MEMBERS, PARTICIPANTS, AND VOLUNTEERS
"
The courage and determination Nancy has shown in surviving her personal tragedy through helping victims of domestic violence is so inspirational. The more that I learned about domestic violence and its impact on the lives of victims, the more I realized that I wanted to play a role in helping Nancy in raising awareness, funds and advocating against domestic violence.
Gregory Green
RHOA Board of Directors Treasurer | Retired, Commonwealth of Pennsylvania
"
Over the past fourteen years, I have witnessed firsthand the commitment, courage, and compassion that Nancy has demonstrated in ensuring that children who are victims of domestic violence are not forgotten. I am proud to be one of the founding members of the Board of Directors of Randi's House of Angels. In my capacity as a board member I find it extremely rewarding to promote our services to ensure that every child who needs our assistance will receive them.
Deb Donahue
RHOA Board of Directors Vice Chair | Retired from Commonwealth of Pennsylvania, Current Adjunct Professor at Central Penn College
"
My nine-year-old daughter attended Randi's Kidz Club in the fall of 2016. It was a life-changing experience for her! She was quiet, shut down, and had social anxiety. She felt like she was the only child in the world that had experienced domestic violence. When I picked her up after the first day, I could already see a difference in her. For the first time in her life she didn't feel alone. She looked forward to every club day over the next ten weeks.
Amanda Reisinger
Parent