Randi's KIDZ Club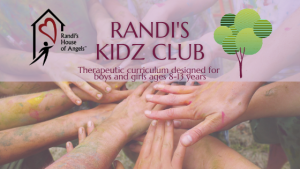 Randi's KIDZ Club is a therapeutic group for children who have experienced domestic violence. It is an ongoing interactive therapeutic group focused on helping children express feelings and emotions through games, art therapy, and relaxation techniques. The curriculum is designed to help children feel safe so they can process the feelings associated with exposure to domestic violence.
Randi's House of Angels provides mobile services and will be working in collaboration with Domestic Violence agencies to deliver the therapeutic group to children who are in transition housing or established clients with the agencies.
"The group creates a safe, supportive environment for children to learn that they are not alone in their experiences and that they matter," commented DVSCP Child Counselor/Advocate Samantha Haskell.
Keep reading on about Randi's Kidz Club:
The group is intended for children who have been exposed and/or victims of domestic violence. This curriculum is designed for boys and girls ages 8-13 years.  The ten-week is an ongoing group that meets weekly once a week for 1.5 hours per session.  The group is conducted with two facilitators, the lead facilitator has a Master's level of education in a related field; trauma-informed specialist, and has updated criminal background check and child abuse clearances.
An intake assessment, completed by the parent/guardian, is done for all children that are interested in attending Randi's KIDZ Club.  This assessment is used to determine if the child is ready for group therapy or will benefit better with other types of therapy such as individual counseling.
The learning objectives of the group will show that:
Children will learn skills to recover from the trauma of domestic violence.
Children will develop a sense of safety and security through the group process.
Children will recognize and decrease tolerance for abuse.
Children will be able to identify and express feelings associated with domestic violence trauma.
Children will become knowledgeable of conflict resolution skills.
Children will regain strength and improve self-esteem to grow into healthy adults.
Randi's KIDZ Club Images: