Meeting Professionals International Middle Pennsylvania Chapter (MPIMP) generously selected Randi's House of Angels as the recipient of their charity giving initiative during their holiday luncheon earlier this month. Donations were made by members via cell phone during the event. Along with a matching donation from their Board, the total raised was $1630! These funds will support our new program "Randi's Klubhouse", for children ages 5-7 years, who have experienced or have been exposed to domestic violence. 
Meeting Professionals International is a worldwide meeting and event industry association with a global community of 60,000 professionals. Follow the Middle PA Chapter on Facebook or click here to read more about them on their website. Thank you MPI!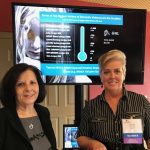 Pictured: Nancy Chavez and RHOA Board
Member Karen Rousche at the MPIMP
holiday luncheon at the Hershey Lodge,
December 5, 2019.