Spring 2020 brought a wave of uncertainty as we were just two months from this year's Randi's Race. Instead of canceling our 16th annual 5K Run/Walk for Hope and Courage, we put our all into transforming our largest annual fundraiser into our first "Virtual 5K". The week of May 2 – 9, 2020, we encouraged runners and walkers to join us virtually to show support for and raise funds for our programs. This year, we were pleased this year's Randi's Race raised more than $26,102, garnering 158 runners and walkers.
Notably, 19 teams organized fundraising efforts and collectively raised more than $7,000! Since 2005, Randi's Race has raised, in total, nearly $500,000 to support our programs and services. We look forward to breaking the half-million mark in 2021 when we present the 17th Annual Randi's Race. We received such positive feedback on the virtual 5K this year from participants located outside of the area and decided to incorporate the virtual participation option in addition to a traditional in-person 5K going forward. More details to be announced in early 2021! Save the date for Saturday, May 8, 2021!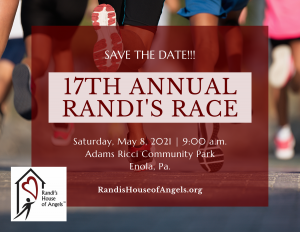 Big thank yous go out to our participants, our 35 sponsors, including our Media Sponsor, abc27, who produced several promotional spots throughout the year for us and also coordinated an interview segment with Amy Kehm on Good Day PA. Visit our YouTube page if you missed any of those videos!






























Randi's House of Angels was established in October 2011 by Nancy J. Chavez as a tribute to her daughter, Randi Trimble, who was brutally murdered on January 10, 2003 by a hit man hired by her own husband. Since her daughter's death, Nancy has been advocating for victims of domestic violence with the hope of creating a resource for children who are also victims of domestic violence.
Nancy created Randi's House of Angels (RHOA), a project of The Foundation for Enhancing Communities (TFEC) to fulfill her dream of helping children and families who are exposed to and/or are victims of domestic violence.