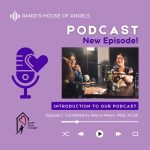 Episode 1: Introduction to the Podcast
Content: Who is Randi's House of Angels (RHOA)? Why was RHOA created? This podcast shares the past experiences of Executive Director Nancy Chavez, including some tragic events in her life that led the creation of this foundation.
Facilitator: Sherry Peters
Guests: Nancy Chavez, Founder and Executive Director of Randi's House of Angels
---
Resources:
Randi's House of Angels overview video: https://vimeo.com/user29005187/review/449381644/bff5de0358
Randi's House of Angels website:  https://www.randishouseofangels.com
---
Music in this episode is:  "Adding the Sun" by Kevin MacLeod (incompetech.com)
Licensed under Creative Commons: By Attribution 3.0 License
http://creativecommons.org/licenses/by/3.0/
---
Feedback:
Please consider taking a brief survey with the link below to share your thoughts about our podcast series.  Thank you!
https://www.surveymonkey.com/r/RHOAPodcast
---
Subscribe or listen on other platforms: